The Ranger
On March 12, 2004 at 6:04 PM, the Ranger was officially dropped off at Jonathan's for the lift/wheels/tires etc. in case you cared.
This is my 1994 Ford Ranger I received in October of 2002. It has all factory options included, and had only 63k miles on the engine. Now it has almost 71k.
Stuff in and on the truck:
4.0L V6
push-button 4x4
automatic locking hubs
Kenwood CD player
High Performance K-Mart floor mats :-)
33x12.50 Pro Comp AT tires on 15x8 bullet holes
Rhino Liner
DeeZee toolbox
Valley hitch
Explorer Pro Comp recovery strap
Westin Brush Guard
2x6" foul weather driving/fog lights
Dana 35 IFS
Ford 8.8 with limited slip, 3.73 gears
When I first got the pickup, it had some pretty ugly running boards on it. In the summer of 2003 I scrapped them and the truck looked completely different. It also had some Firestone A/T tires that were very worn, so I replaced them immediately with the Dayton tires. Other than the starter and alternator dying due to age, the truck has been very reliable and got me home safely during one of the worst snows in recent Nashville history (winter 03).
I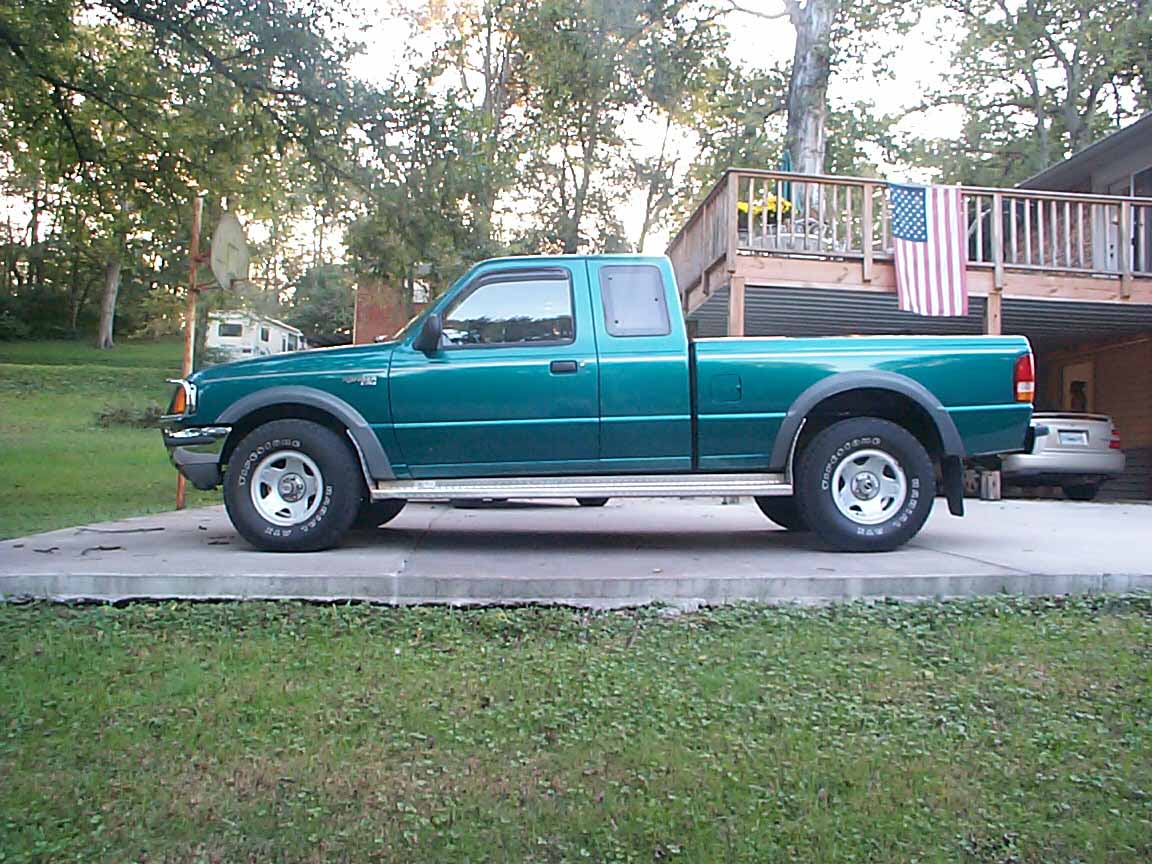 The Ranger as soon as it got home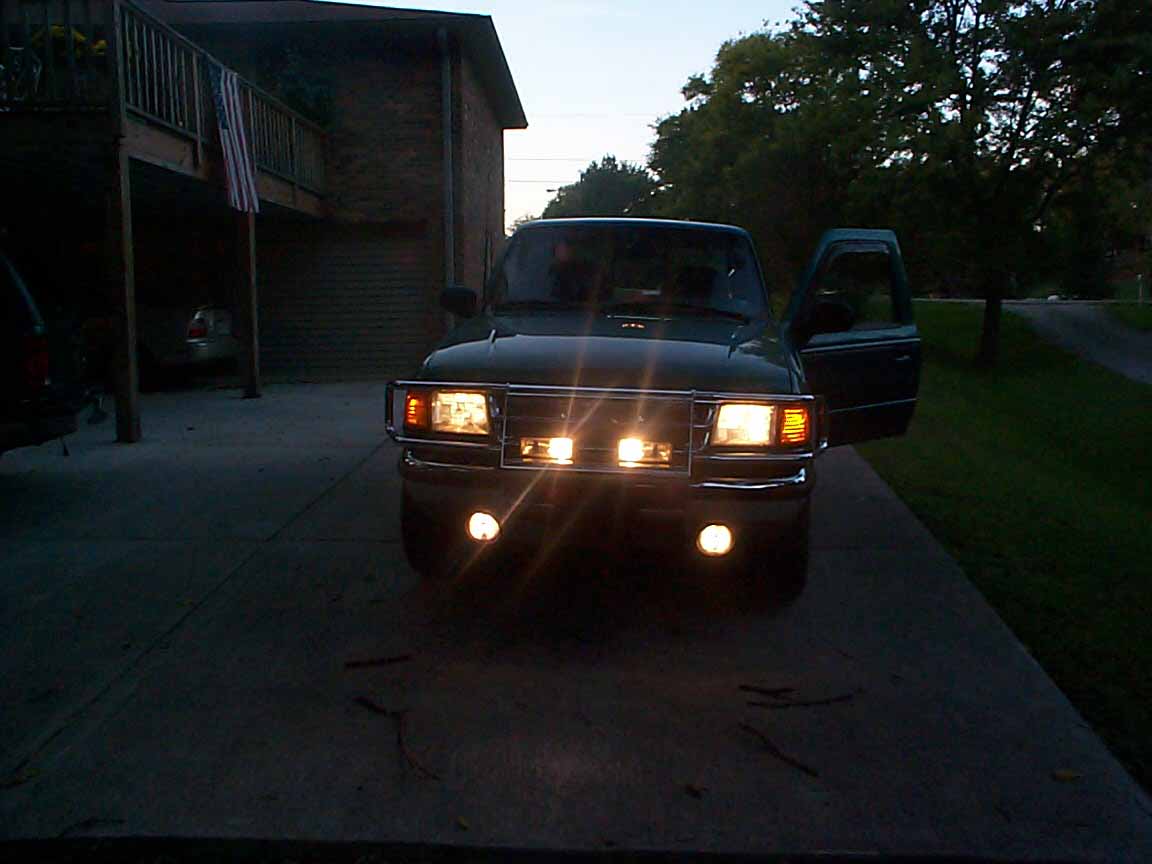 Good shot of me playing with the lights. The passenger side light is yellowed a bit and I need to fix it.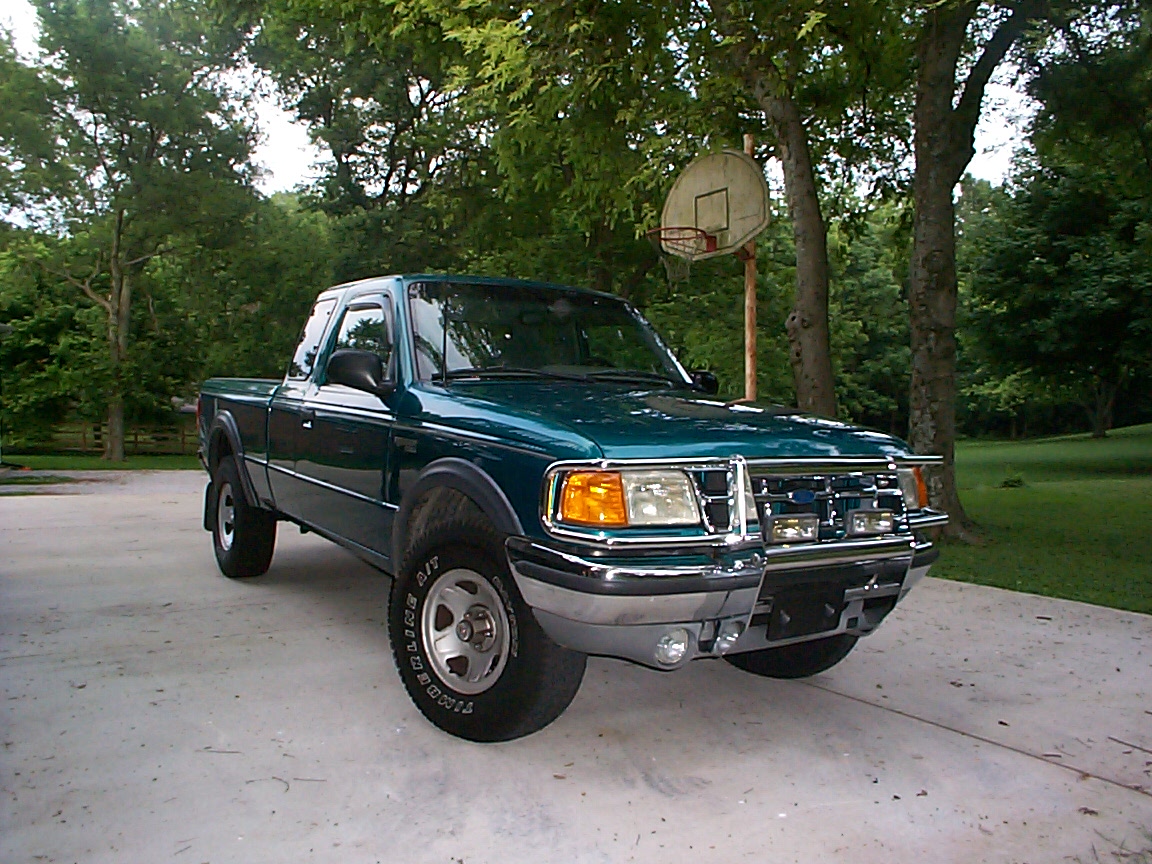 110% improvement after I removed the running boards.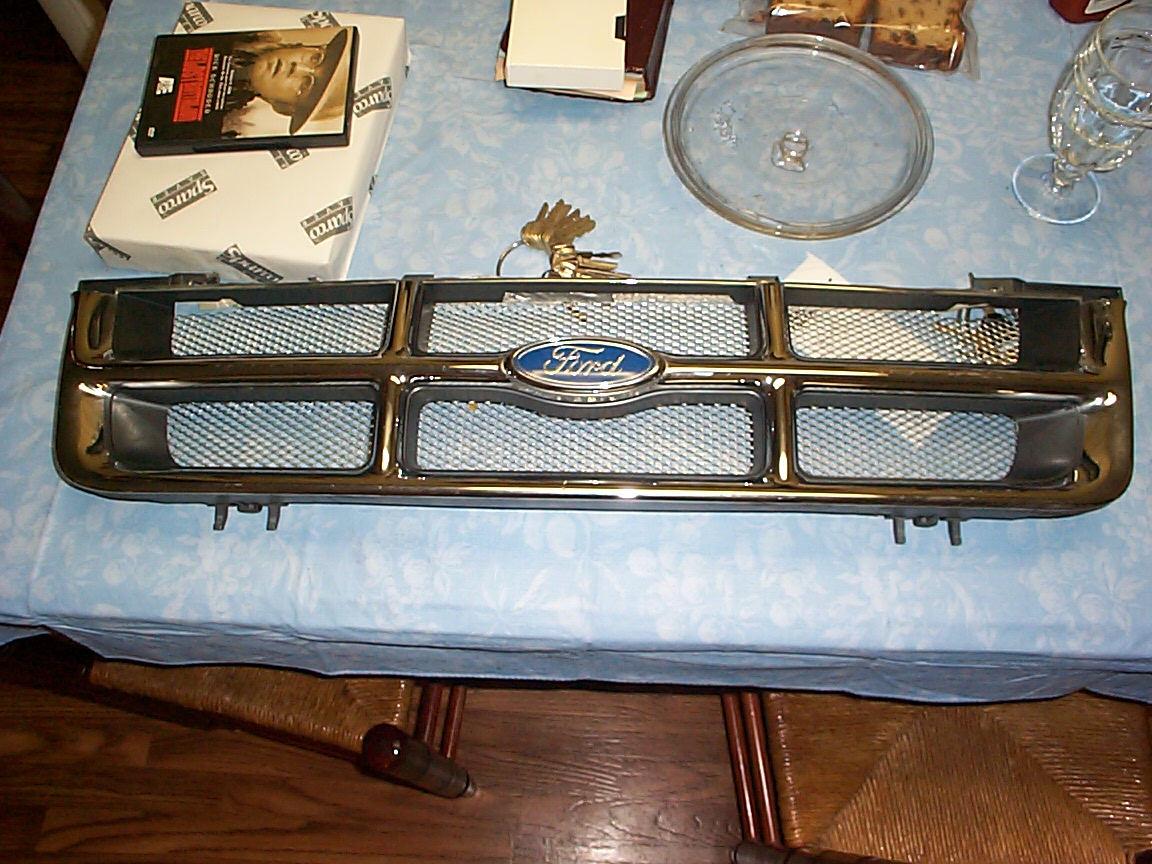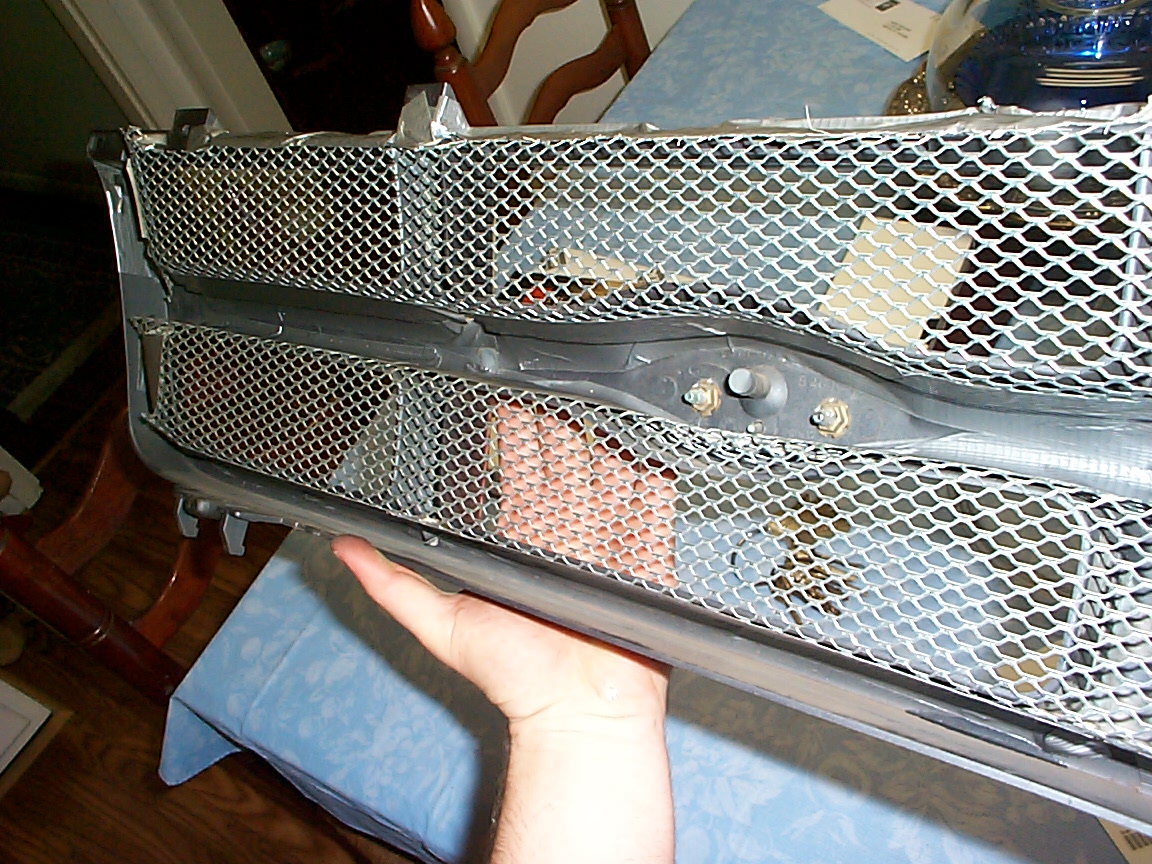 This is the latest mod, my gutter-guard grill insert. Turned out real nice. I finished at 9:15 at night so I couldn't get a good picture. I duct-taped it in. It sounds highly ineffective but you would be very surprised...
Lift Installed 3/19/04 along with wheels and tires.
The Ranger is now closer to monster truck status. I told myself I was done with the pickup after I put all this on, but....
The lift is a Skyjacker 6" Class 1 with new leaf springs instead of blocks (I'd advise anyone to spend the extra $250 or so and get new springs; blocks ride bad) and four new Explorer Pro Comp Nitro shocks. The wheels are 15x8 US Wheel bullet holes. I really like the looks of these, and the price is also good ($45/wheel). The tires are Explorer Pro Comp 33x12.50R15 All Terrain.
The next thing I do is get a full-size spare w/ matching wheel, and then get a 1-piece driveshaft from a 98+ Ranger. After that I'll probably get a hi-lift jack and replace the crummy auto-locking hubs with some good warn manual hubs.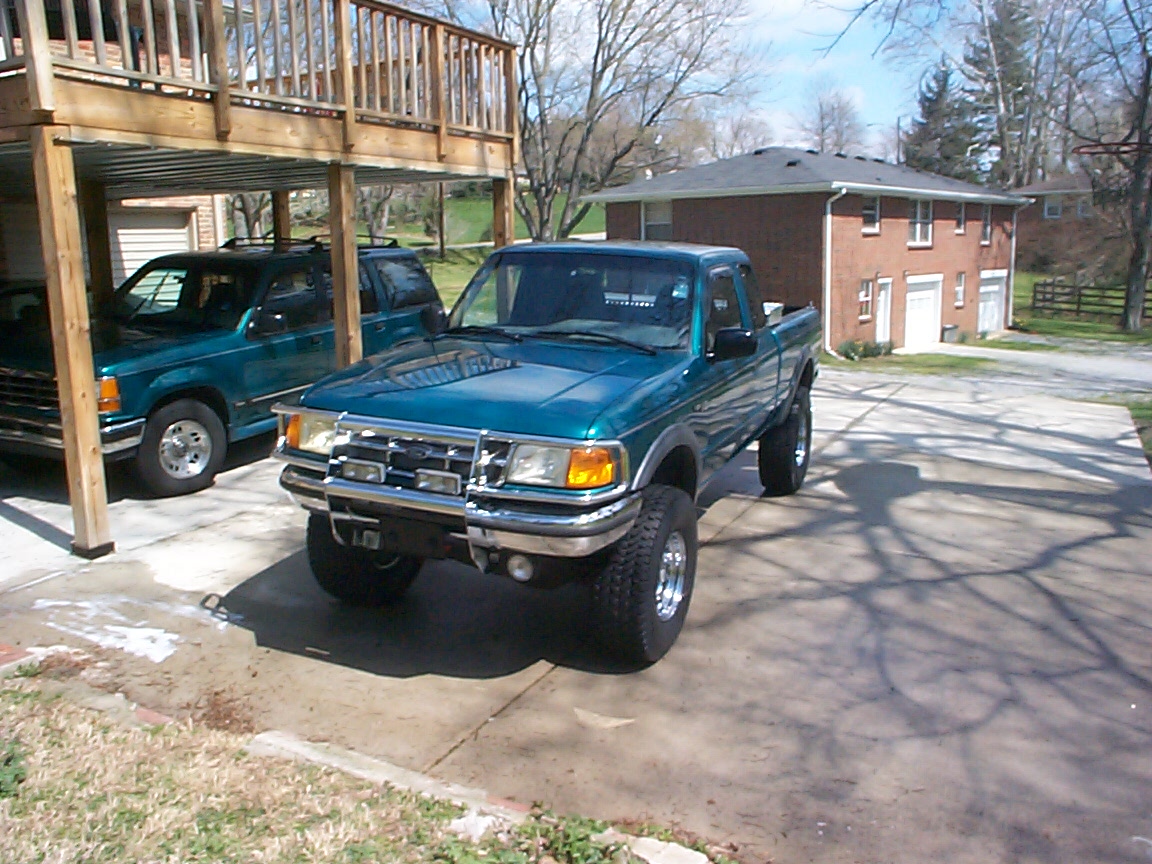 Standing much taller. I took off the air dam/fog light valance because the tires rubbed it.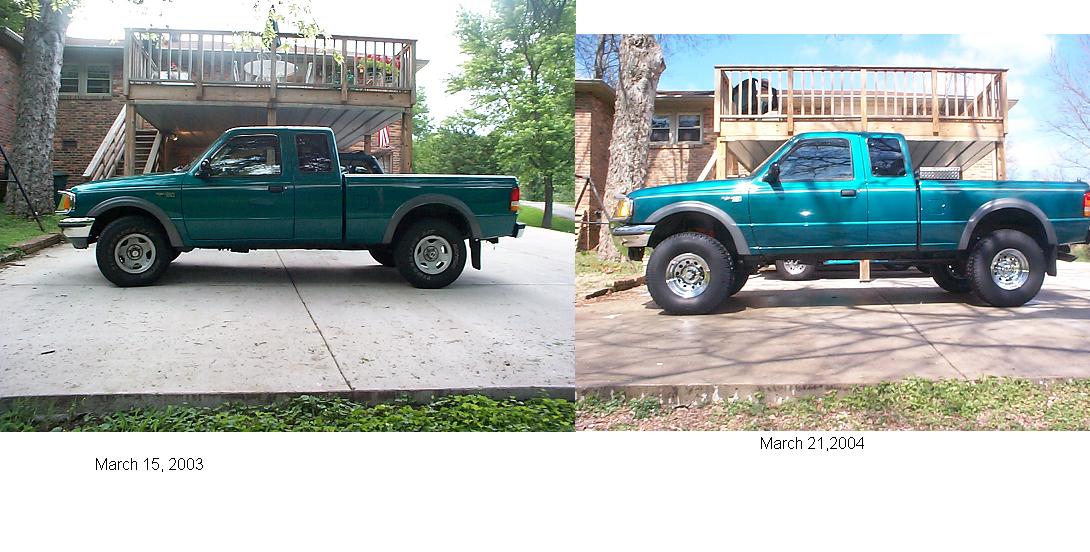 Comparison shot.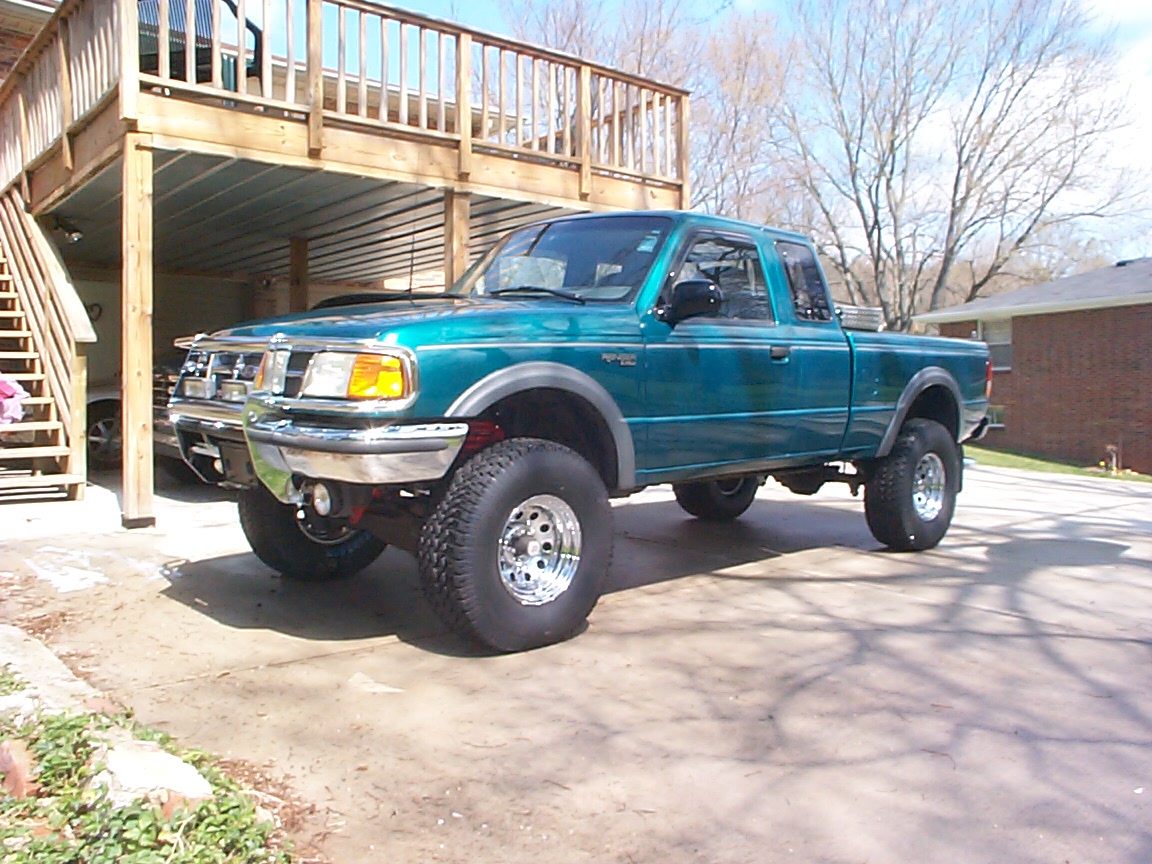 COIL ISSUE